LIMITED Number of Seats Available
Agatha Christie's The Mousetrap
Due to Covid-19 restrictions there is limited seating availability. Get your tickets TODAY before they are sold out.
September 11, 12, 18, 19 at 8:00 pm and September 20 at 2:30 pm
Buy Tickets
Meet the Cast
Get Tickets NOW!
Show Dates: October 23, 24, 30, 31 at 8:00 pm and November 1 at 2:30 pm
The Cast
Buy Tickets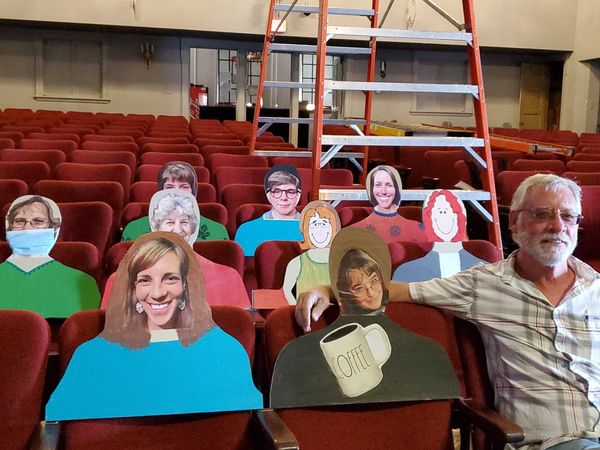 Be a PLAYHOUSE PAL
As you are probably now aware, the Governor has limited our seating to 15% capacity!! So, we have a bunch of seats to fill to recoup the lost revenue.
Consider joining us in this FUNdraising event!
Place your Playhouse Pal for one night only for $10, or let your Pal hold a seat for the entire run of The Mousetrap for $25! You can also choose to make a $100 donation and leave your Playhouse Pal in an empty seat UNTIL THE RESTRICTIONS are lifted!!
Want your very own Playhouse Pal???!!
Follow the link below to dontate and then send your favorite picture using the link below or email it to mansfieldplayhouse@hotmail.com. Or you can choose a pre-made Pal from one of our amazing volunteers!!
Get YOUR Playhouse Pal
Submit your Picture
Mansfield Community Playhouse Covid-19 Policies and Protocol The Playhouse is working very hard to reopen this season while doing our best to help mitigate and prevent the spread of illness during these concerning times.
What others are saying about the Playhouse
"Everything is amazing! From the audition process to the final production- my daughter has highly enjoyed being part of the jr. shows at the Mansfield Playhouse. As an audience member I love coming to this theatre. It's beautiful and intimate – seating is great sound and lights are always great and the local talent is incredible! Love this community theatre!"
Jennifer from Mansfield
"Lately I've been looking for a reason to laugh, and the cast of this hilarious play delivered. 
This was my first time at the Mansfield Playhouse and I will definitely be back. 
Thank you!!"
Marty from Butler
Connect with us on FaceBook